Halloween Kitchen Decor: 33+ Ideas to Get You in the Spirit (2023)
Halloween Kitchen decor is a must, because Halloween, or say All Hallows' Eve is a sweet and spooky festival and the main preparation for any festival starts from the kitchen. Whenever a guest comes to our place to have food or wish us for this wonderful festival, we serve him sweets, cookies, snacks or whole food made by our own hands, which is prepared in the kitchen itself, so we can say that Kitchen is the heart of our home.
We have got you some really fun and scary ideas that will help you take your kitchen Halloween decorations to the extreme.
What is Halloween and why is it celebrated?

According to History.com: Halloween is a holiday celebrated each year on October 31, and Halloween 2023 will occur on Tuesday, October 31. The tradition originated with the ancient Celtic festival of Samhain, when people would light bonfires and wear costumes to ward off ghosts. In the eighth century, Pope Gregory III designated November 1 as a time to honor all saints. Soon, All Saints Day incorporated some of the traditions of Samhain. The evening before was known as All Hallows Eve, and later Halloween. Over time, Halloween evolved into a day of activities like trick-or-treating, carving jack-o-lanterns, festive gatherings, donning costumes, and eating treats.
---
This article may contain affiliate links. This means I receive a small commission if you purchase through one of these links at no extra cost to you. Click here for more information.
---
Spider Web Curtains for Halloween Kitchen Decor
Spider webs add a spooky feel to an old or empty house. Web curtains are a classic Halloween decoration that will add a touch of eerie to your kitchen. You can hang them on a windowsill, over a sink, or even on the wall and ceiling.
Bonus Tip: The use of some led lights around the curtains can make it pop.
---
Bat Wall Decals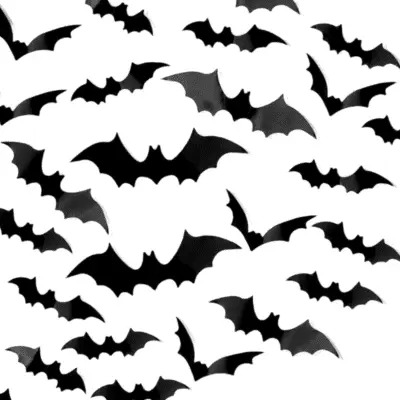 The bat has always been a scary looking bird that has given everyone a little bit of a scare. Bat wall decals are a great way to add some Halloween fun to your kitchen or anywhere in the house. They're easy to put on and remove, so you can use them year after year.
---
Skull Salt and Pepper Shakers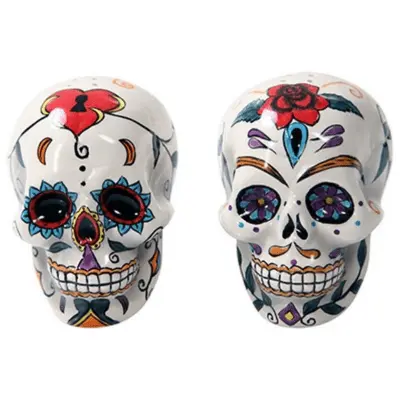 Skull salt and pepper shakers are a fun and festive way to add some Halloween flavor to your kitchen table. Available in both funny and scary looks, it's also a great conversation starter for your guests.
---
Ghost Oven Mitts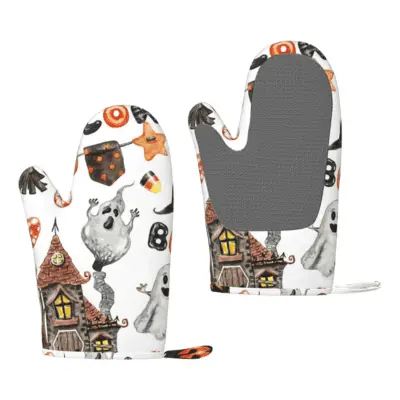 Ghost Oven Mitts are also a cute and festive way to show off your Halloween spirit. Oven mitts keep your hands safe while you're cooking in the kitchen, plus their funny Halloween design is sure to bring a smile to everyone's face. It also makes a great Halloween gift for someone who loves cooking.
---
Haunted Witch Apron
The witch apron enhances the Halloween atmosphere in your kitchen. The fun of Halloween in the kitchen is even greater when children watch the witches built in it and listen to their stories. It is perfect for serving spooky dinners.
---
Spider Web
It is a bit difficult to create a spooky feel without a spider web. Use this web above the kitchen shelves, around the fridge, and at places like windows, and add fake spiders, hidden speakers, and lights to create a scary atmosphere in your kitchen.
---
Halloween Tea Towels
Halloween tea towels are a great way to add some Halloween fun to your kitchen. They're also perfect for drying your hands or wiping down counters after a messy baking session.
Bonus Tip: You can put it on your wall with the help of tape, its funny and scary patterns will increase your Halloween Kitchen decor.
---
Halloween Tablecloth
A Halloween tablecloth comes in a variety of spooky designs such as spider nets, witches, skulls, ghost faces, and more. This is one of the very first required accessories to prepare your food table for Halloween, which helps to protect it from any spillage or mess along with the decorations in the Halloween party.
---
Halloween Candles | Candle Holders | LED Candle
Candles are used in many festivals, and they come in many shapes and sizes. However, Halloween candles have a particularly spooky feel. The shapes of these candles and candle holders can be ghosts, skulls, or other scary designs, which add to the Halloween atmosphere of our dinners. They can also be great Halloween gift items that everyone will love.
---
Halloween Light and Music for Kitchen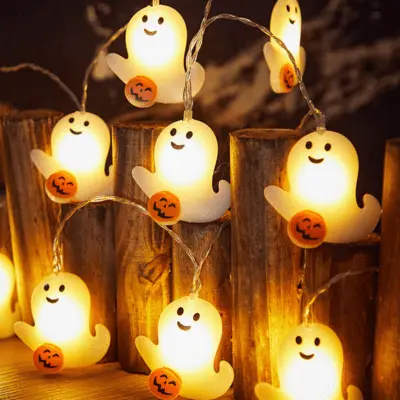 A party or festival is incomplete without lights and music and when it comes to our favorite Halloween, it should be more eye-catching.
If the lights and music of Halloween are remotely operated, then the fun goes on, and after, you can create a very scary atmosphere for your guests with the help of your operated lights and music while they are eating food.
---
Spooky Skull Coffee Mug
When you serve cold and hot coffee to your guest in these spooky cups, you get a full Halloween feel, its skull and scary shape attracts a lot.
Bonus Tip: 4 to 6 cups of dry ice on your dining table and LED lights helps add a spooky Halloween decoration to your kitchen and dining room.
Witch Cauldron Mug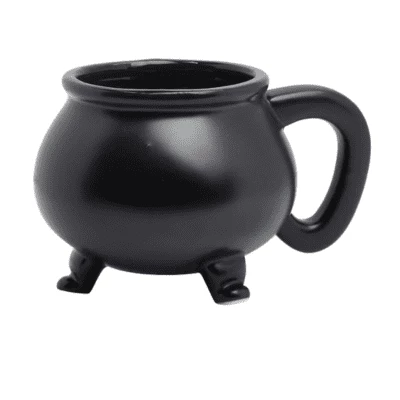 This Witch Cauldron Mug is perfect for stirring up a batch of your favorite Halloween brew. In this, you can keep the chocolates of Halloween in the center for the children.
---
Pumpkin Spice Syrup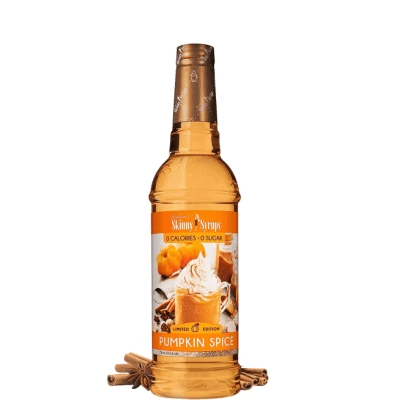 This Pumpkin Spice Syrup is perfect for your coffee, tea, or even pancakes. It will come in handy in preparing your Halloween dinner and it will surely give your food a delicious taste.
---
Ghost Pepper Hot Sauce
This Ghost Pepper Hot Sauce is sure to spice up your Halloween party. These Ghost Peppers will give a horrifying taste to those who eat a lot of spicy food. People will not be able to stop themselves without talking about this spooky attractive bottle kept in the middle of the dining table.
---
Spooky Candy Bowl Or Human Skull Bowl
A spooky candy bowl or human skull bowl is a great way to display your Halloween candy, and it's also a great conversation starter for your guests. You can find the Spooky Candy Bowl Or Human Skull Bowl in a variety of sizes and styles.
---
Pumpkin Carving Kit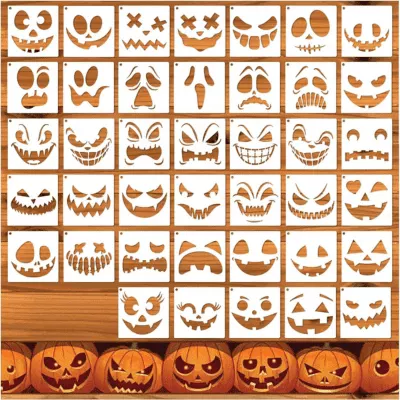 This pumpkin carving kit is perfect for getting into the Halloween spirit. It comes with everything you need to carve a spooky pumpkin, including a variety of carving tools and stencils.
---
Halloween Cookie Decorating Kit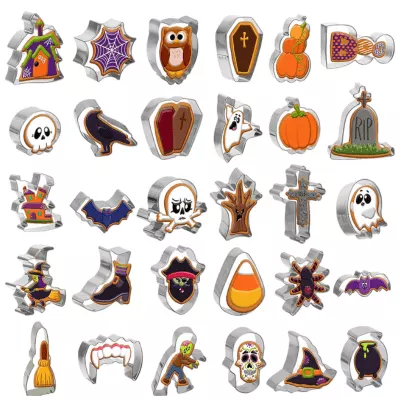 Get creative with your dough and frosting to craft spooky masterpieces that will leave your guests spellbound. This Halloween cookie decorating kit is perfect for making funny and scary cookies with family and friends. It comes with a variety of cookie cutters, icings, and sprinkles. Children enjoy cutting cookies in this so that they help in the work in your kitchen.
---
Ghost-Shaped Ice | Chocolate Cube Trays
These ghost-shaped ice cubes and ice cream trays are a great way to add a touch of Halloween fun to your drinks. Children are very happy to see its scary shapes and enjoy Halloween.
Bonus Tip: While making ice cubes or chocolates, you can give them an even more attractive feel by using food colors in it.
---
Pumpkin and Skull Shaped Drinking Glasses
These pumpkin and skull-shaped drinking glasses are a great way to show off your Halloween spirit while you're enjoying your favorite beverage. In this, you will look like Dracula drinking someone's blood, drunk red wine. You will have a lot of fun on Halloween drinking in these glasses.
You can also use these glasses as a home and kitchen decoration or gift item.
---
Wine Beverage Bottle Stoppers
These wine drink bottle stoppers will add a different look to your Halloween party. Your guest will appreciate seeing this placed on top of a wine bottle.
---
Halloween Cake Pan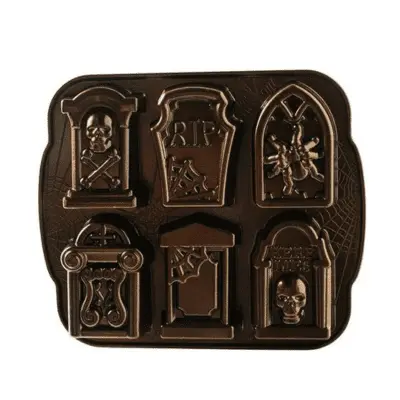 This Halloween Cake Pan is perfect for making spooky Halloween cakes. It's easy to use and perfect for giving your cake a great shape for your Halloween party.
---
Pumpkin Shaped Pie Dish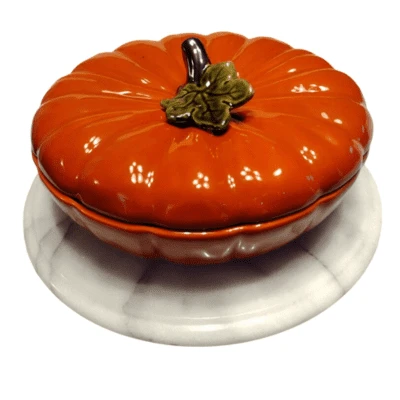 This pumpkin-shaped pie dish is perfect for a delicious pumpkin pie for your Halloween party. It's also a great way to show your Halloween spirit. You can teach your kids about the importance of pumpkins in the Halloween festival while they eat the pie. Can do and maintain the culture.
---
Skull Shaped Cheese Board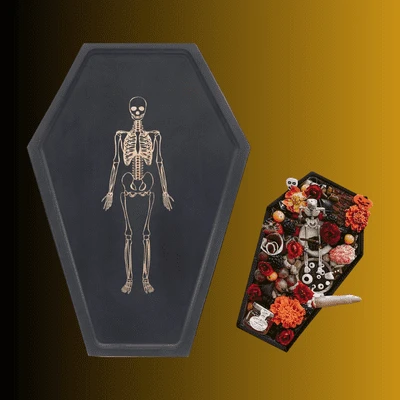 This skull-shaped cheese board is perfect for serving a variety of cheeses and charcuterie for your Halloween party.
---
Skull-Shaped Measuring Cups and Spoons
These skull-shaped measuring cups and spoons are a great addition to your kitchen in preparation for a Halloween party. Apart from measuring ingredients, you can also use it as a great Halloween gift, it also looks great in a home decor item other than Halloween.
---
Halloween Cupcake Cups, Toppers, and Picks
Halloween cupcake cups, toppers, and picks are essential to get your cupcakes ready for the Halloween theme, as well as designs and patterns that will delight kids and adults alike.
---
Coffin Coffee Bar Mat
The coffin coffee bar mat is perfect for holding any type of drink on your countertop at a Halloween party.
---
Paper Towel Holder
Halloween Paper Towel Holder is very unique holders specially for Halloween because of their spooky look you can use it anywhere in your home for Halloween decor.
---
Skull & Vine Oven Mitt & Pot Holder
Skull & vine oven mitt & pot holder will save you from heat and will also be useful in Halloween decor of your kitchen, you can hang it anywhere in the kitchen, apart from this it can also be a good Halloween gift for a housewife.
---
Fork and Spoon
You can take a Halloween fork and spoon along with dinner as a kitchen Halloween decoration on the dining table.
---
Other OTOTO's Spooky Kitchen Tools
OTOTO's scary kitchen tools all help you prepare for the Halloween party in the kitchen as well as create a Halloween atmosphere in the kitchen.
---
Halloween Serving & Cutting Board
Kickstart the Halloween spirit with a cutting board shaped like bat, black cats, or pumpkins. Whether you're chopping vegetables for a cauldron stew or carving pumpkin designs, these cutting boards are a must-have for any Halloween lover. When you're done, hang them on the wall to create a Halloween atmosphere. You can also add bat wall decals for an extra touch.
---
Mysterious Mugs
Enjoy your piping hot witches brew or pumpkin spice latte in a Halloween-themed Mysterious Mug. Take such designs that people will either be scared or happy as soon as they come in front.
You can give this as a Halloween surprise because people do not know what design will come out of it when heated, so people are excited.
---
Potion Bottles
Halloween potion bottles are made to look like potion bottles found in a witch's house.
---
Frightening Fridge Magnets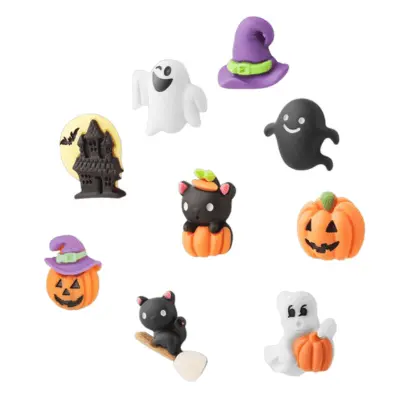 Give your fridge a Halloween makeover with creepy magnets representing tombstones, black cats, or bats. Turn your refrigerator into a spooky kitchen focal point with these chilling decorations.
---
Conclusion
Embrace the Halloween spirit in your kitchen with these spooky accessories and decorations. Whether you're hosting a haunted dinner party or just whipping up some spooky treats, these Halloween-themed kitchen tools are sure to make your culinary adventure exciting and memorable. Many of these tools can be used as decorations for anywhere in your home, in addition to your Halloween kitchen decor. All these items come in from $3 to $100, so they are very economical and you can also see them as a Halloween gift.
!!! Happy Halloween !!!
---
Read More: